Archive for May, 2010
by admin on May.05, 2010, under Uncategorized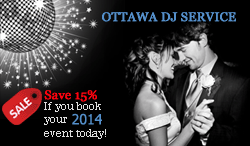 Just in time for the wedding planning season, viagra 60mg Ottawa DJ Service announces new 15% discount on Ottawa Wedding DJs. Ottawa DJ Service, physician offers disc jockey service packages for, patient Ottawa wedding receptions, wedding ceremonies and even wedding rehearsals.
While finding and choosing the wedding dj service, one usually evaluates the price and service offered for each service provider to see if and how they can contribute to the success of your wedding.
When it comes to finding and choosing a wedding DJ, price and service are not the only factors to consider. Remember, you get what you pay for.
Keep in mind that the DJ service industry is still by most accounts unregulated. This means that there can be a significant difference between providers – differences that can make or break your special day. Also, Ottawa DJs compete in a very fierce market within the Ottawa Gatineau area which may sometimes give you and advantage on price points.
Here is what you need to look for when choosing an Ottawa wedding DJ for your Ottawa wedding celebration: First see if they conduct themselves professionally. Preferably, you want to meet your DJ in person. Your DJ should be polite and well-groomed in accordance to your Ottawa wedding party in style. This will give you the confidence level to see if he or she is the "right fit" for your Ottawa wedding.
For additional information on how to choose a wedding dj, please follow this link: http://www.ottawadjservice.com/ottawadjsarticles/choosin …
At Ottawa DJ Service, we offer a rare combination of great service, affordability and great music. We understand how important your wedding day is and given the opportunity, we will always endeavor to meet and exceed your expectations.
380 Comments
:ottawa dj, OTTAWA DJ COMPANIES, OTTAWA DJ COMPANY, ottawa dj service, ottawa dj's, ottawa wedding dj, wedding dj ottawa, wedding djs ottawa
more...